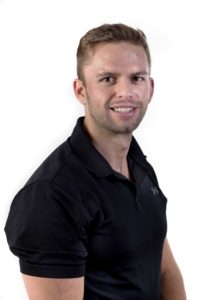 Dr Matthew Penney is a registered chiropractor, who qualified with a masters in technology in chiropractic from the Univeristy of Johannesburg. He is also registered to the Allied Health Professions Council of South Africa as well as the Chiropractic Association of South Africa.
During his time as a chiropractic student he was a member of the Student Chiropractic Sports Council and Chirosport SA. This allowed Dr Penney a distinct advantage as it gave him first hand experience in dealing with a variety of sports and tournaments involving weightlifting, cricket, water polo, swimming, cross country, athletics, rugby, hockey, soccer and cycling. In this same time frame he had the privilege, and the pleasure of working with many of the professional rugby teams such as the Lions, Sun Wolves and sharks on their tours.
Dr Matthew Penney is a family chiropractor who has a special interest in all athletes due to his own love for sport and his sporting background. Dr Penney played sports such as cricket and soccer at a high level. He loves to practice what he preaches and trains really hard in the both the commercial and CrossFit gyms. Dr Matthew Penney is also a keen runner and enjoys the various challenges that comes along with running. His experience in the sporting arena has lead him to have a deep understanding of how the body works, the injuries that come with the sports and how to get the body in optimal shape to perform at its best.
Should you wish to book with Dr Penney please contact us on (011) 704 2331 or visit our Online Booking page.
Follow Dr Matt on Social Media